Cosmetic Dentistry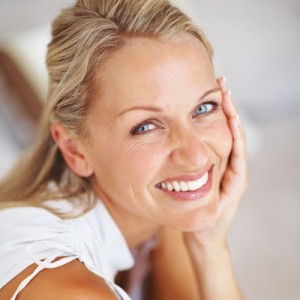 A Beautiful Smile that You Can Afford
The way your smile looks greatly influences your self-confidence and how you interact with other people. Many people view your smile as the first thing that they notice about you, and if you're concerned with the way your teeth look, you may not be smiling much at all. We provide a variety of cosmetic dental services to help you correct the appearance of your teeth, whether it's all of them or just a single tooth. Most people can choose from a variety or combination of different treatments to fit any budget or concern.
Porcelain Veneers
Veneers are an effective way to change the way your teeth look, be it their shape, size, color, or even alignment. A veneer is a thin piece of porcelain that is bonded directly to the front of the tooth. They look and feel just like natural teeth, and are designed by Dr. Tangeman to correct the specific areas that concern you the most.
Full Mouth Restoration
Sometimes having multiple broken down teeth can seem overwhelming if you're not sure what to do next. Full mouth restoration addresses the needs of each individual tooth, as well as the part they play in the appearance of your smile. Completing these treatments together or in phases can help transform your smile into one that functions correctly and looks great.
Crown Lengthening
Crown lengthening is a procedure that helps you manage gum disease, or preserve teeth that would otherwise be difficult to restore. For instance, if a crown needs to be placed on a tooth, but there is not enough healthy tooth enamel above the gumlines, then crown lengthening will expose slightly more tooth structure so that it can support a full crown. Or, in order to improve the oral health of patients with gum disease, crown lengthening can also be used to decrease the size of the pockets in the gum so they're easier to keep clean.
Gum and Tooth Recontouring
If your smile appears uneven or has excess gum tissue, then gum recontouring can help smooth your gingival tissue and increase the amount of exposed enamel for teeth that otherwise look short or small. We use a diode laser to perform all gingival recontouring therapy; the procedure is very comfortable and takes only a short amount of time to complete.
Composite Bonding
Minor tooth irregularities, chips in enamel, areas of sensitivity, or small gaps between the teeth can quickly and easily be reversed by placing composite bonding over the area of concern. This material is carefully matched to your natural tooth enamel so that it blends in with your other teeth.
Smile Whitening
That Hollywood white smile isn't as hard to get as you think! We offer two different types of whitening to meet the results you want to achieve, and fit into your budget. One type we offer is the in-office ZOOM! Whitening, that lightens your teeth several shades in just a single visit to our office. The other method of whitening treatment is Nite White take-home whitening trays, which achieve comparable results to in-office whitening, but over a period of two weeks. Both methods can be maintained for long-lasting whitening results.