Orthodontics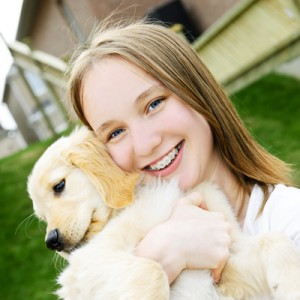 Braces for You and Your Family
Great tooth alignment is a key factor in a beautiful smile, but tooth positioning also plays a vital role in proper tooth wear, preventing gum disease, and avoiding tooth decay. Teeth that are crowded or misaligned will wear down prematurely and are much more likely to develop cavities and have areas of periodontal disease in the gum tissue around them. By correcting the alignment of the teeth, your mouth will function properly for many more years, and you will gain the self-confidence to smile more frequently around those in your daily life.
Children
As your child is growing, interceptive orthodontics help ensure proper oral development, tooth eruption patterns, and growth modification as needed. These techniques encourage correct, natural tooth alignment as their jaws and teeth are still growing. One of the most common types of techniques used is palatal expansion, which creates more room in the mouth for teeth to erupt fully into place without the guidance of braces.
Braces
Our patients can choose from 3 different types of orthodontic treatments:
Traditional Traditional stainless steel braces are both economical and functional on patients with all types of corrective needs. From minor misalignments to more severe crowding, traditional orthodontics can help provide predictable, effective treatment.
Invisalign What would you think if you could straighten your teeth without anyone knowing that you were wearing braces? That's exactly what Invisalign orthodontics do. These clear, slim plastic aligners help guide your teeth into place without any brackets or wires. They're also removable, so there's no need to alter your diet or oral hygiene routine.
Ceramic Patients that need the treatment of traditional braces but want to have a more cosmetic option often choose ceramic braces. These brackets are smaller, and their color blends in with your natural tooth enamel. Most people won't even know you're wearing them unless they look very closely.